Elevate Your Security Game with HIKVISION DS-7732NXI-I4/16P/S: A 32-ch 1U 16 POE AcuSense 4K NVR
Introduction: In today's rapidly evolving world, ensuring the safety and security of your surroundings is paramount. That's where HIKVISION steps in as a trailblazer in the realm of surveillance technology. Introducing the HIKVISION DS-7732NXI-I4/16P/S 32-ch 1U 16 POE AcuSense 4K NVR, an innovative powerhouse that combines cutting-edge features with a strategic partnership with HIKD, making it the ultimate solution for all your security needs.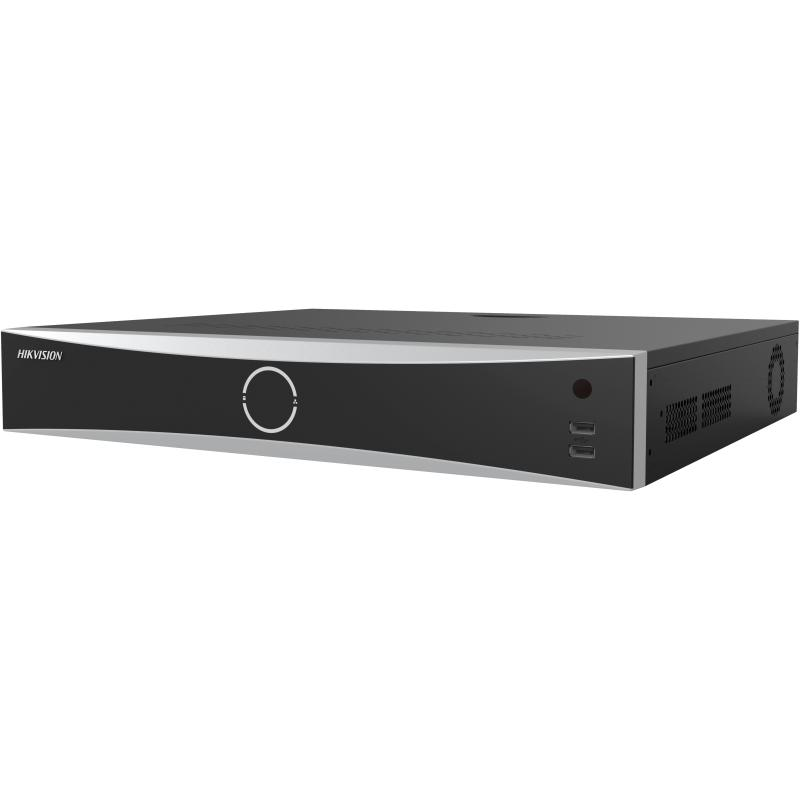 HIKD: A Trusted Partner in the Pursuit of Security Excellence: Collaboration drives progress, and HIKD stands as a trusted partner alongside HIKVISION, reinforcing their commitment to excellence in the security industry. HIKD's pivotal role in this partnership ensures the seamless integration of advanced technologies and the creation of groundbreaking solutions that empower individuals and organizations alike.
Empowering Surveillance with Unmatched Flexibility: The DS-7732NXI-I4/16P/S NVR offers unprecedented flexibility with its support for up to 32-ch IP camera inputs. Whether it's a small-scale installation or a comprehensive security network, this NVR can effortlessly handle the demands of diverse environments. Combine this with 16 Power-over-Ethernet (PoE) interfaces for hassle-free connectivity, and you have a surveillance system that is both versatile and convenient.
Unleashing the Power of Intelligent Analytics: Equipped with a deep learning algorithm, the DS-7732NXI-I4/16P/S NVR takes intelligent analytics to new heights. Its advanced capabilities include up to 4-ch perimeter protection, ensuring proactive threat detection and alerting you to any suspicious activity. With the option for up to 1-ch facial recognition for video stream or up to 4-ch facial recognition for face pictures, you can enhance your security measures and have greater control over access to sensitive areas.
Seamless Video Performance and Uninterrupted Streaming: The DS-7732NXI-I4/16P/S NVR supports industry-standard video formats such as H.265+/H.265/H.264+/H.264, ensuring optimal video performance while minimizing bandwidth and storage requirements. With up to 16-ch 1080p decoding capability, you can experience smooth and high-quality video playback, providing critical insights when you need them the most. Its impressive incoming bandwidth of up to 256 Mbps ensures uninterrupted streaming and reliable data transmission.
AcuSense Technology: Revolutionizing Security Efficiency: HIKVISION's AcuSense technology is at the core of the DS-7732NXI-I4/16P/S NVR, revolutionizing security efficiency and resource management. By harnessing the power of deep learning algorithms, AcuSense technology significantly reduces false alarms, allowing security personnel to focus on genuine threats. Minimize manual effort, streamline operations, and optimize security costs with this game-changing feature.
Conclusion: Secure your premises and gain peace of mind with the HIKVISION DS-7732NXI-I4/16P/S 32-ch 1U 16 POE AcuSense 4K NVR. Powered by the strategic partnership between HIKD and HIKVISION, this NVR offers unparalleled flexibility, intelligent analytics, and seamless performance. Explore HIKD's extensive range of advanced security solutions and embrace the future of surveillance technology by visiting their official website here. Elevate your security standards and unlock a new level of protection with HIKD and HIKVISION by your side.
About Author