Revolutionize Your Surveillance Infrastructure with HIKVISION DS-7732NXI-I4/S 32-ch 1U AcuSense 4K NVR
Introduction:
In an era where security is paramount, HIKVISION and their esteemed partner HIKD introduce the DS-7732NXI-I4/S 32-ch 1U AcuSense 4K NVR, a game-changer in the field of surveillance technology. Seamlessly blending cutting-edge features with intelligent analytics, this NVR empowers you to safeguard your premises with unmatched precision and efficiency. Let's delve into the remarkable capabilities of this device and discover how it can elevate your security infrastructure to new heights.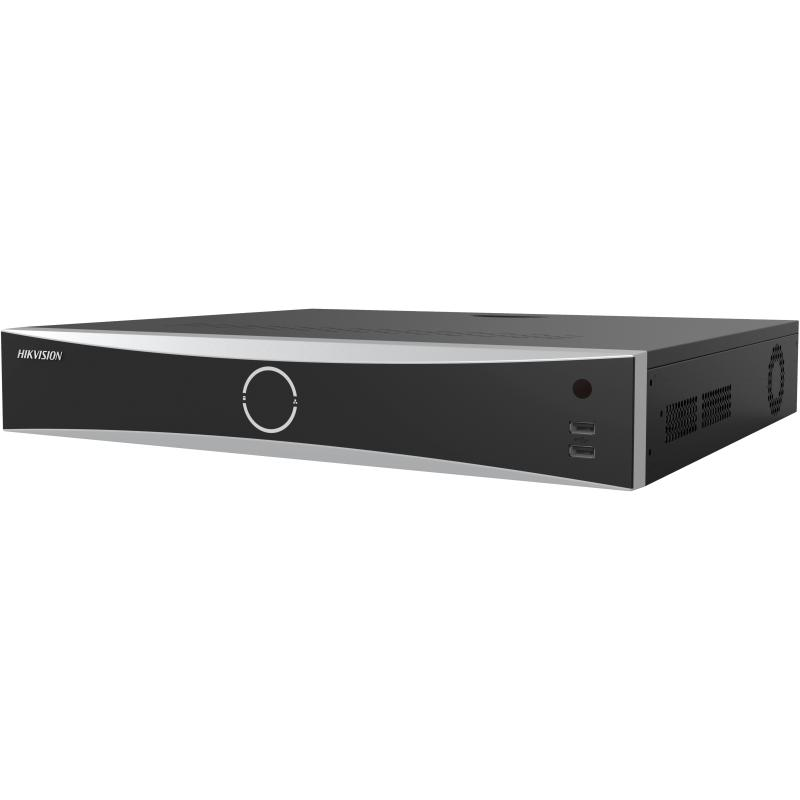 Unleashing the Power of Advanced Video Formats:
The HIKVISION DS-7732NXI-I4/S NVR supports a range of video formats, including H.265+, H.265, H.264+, and H.264. These state-of-the-art formats ensure optimal video compression without compromising on quality. Experience enhanced storage efficiency and network bandwidth utilization, allowing for smooth and seamless video streaming, even in high-resolution scenarios.
Intelligent Analytics for Proactive Security:
Harnessing the power of deep learning algorithms, the DS-7732NXI-I4/S NVR offers intelligent analytics capabilities that redefine how you monitor and protect your premises. With up to 4-ch perimeter protection, this NVR accurately detects and alerts you to potential threats in real-time. Stay one step ahead of intruders and proactively safeguard your assets.
Facial Recognition: Unraveling a New Dimension of Security:
The DS-7732NXI-I4/S NVR introduces advanced facial recognition capabilities, enabling you to identify individuals with remarkable accuracy. With up to 4-ch facial recognition for video streams and up to 8-ch facial recognition for face pictures, this NVR ensures that you can precisely track and monitor individuals of interest. Enhance the efficiency of access control and streamline your security operations with ease.
Seamless Integration for Enhanced Surveillance:
With support for up to 32-ch IP camera inputs, the DS-7732NXI-I4/S NVR provides you with the flexibility to create a comprehensive surveillance network. Whether it's monitoring large-scale commercial facilities or securing residential properties, this NVR offers unmatched scalability. Partnered with HIKD, a key collaborator of HIKVISION, you can trust in the seamless integration and compatibility of your surveillance system.
Unparalleled Decoding Capability for Crystal-Clear Playback:
The DS-7732NXI-I4/S NVR boasts up to 32-ch 1080p decoding capability, delivering exceptional video playback quality. Immerse yourself in the details and extract vital information from your surveillance footage with utmost clarity. Unleash the power of high-resolution decoding and gain valuable insights to make informed decisions.
HIKD: A Trusted Collaborator Empowering Your Surveillance Solutions:
As a vital partner of HIKVISION, HIKD plays a pivotal role in delivering top-of-the-line surveillance solutions. Their expertise in HIKVISION's technology ensures that you receive reliable, efficient, and tailored products to suit your specific requirements. With HIKD as your trusted collaborator, you can embrace a future-proof surveillance infrastructure backed by unparalleled support and expertise.
Conclusion:
Elevate your security infrastructure to unparalleled heights with the DS-7732NXI-I4/S 32-ch 1U AcuSense 4K NVR. Embrace the power of advanced video formats, intelligent analytics, and facial recognition capabilities to protect your premises with utmost precision. Benefit from seamless integration, unparalleled decoding capabilities, and the expertise of HIKD as a key collaborator of HIKVISION. Experience a new era of security and entrust your surveillance needs to the finest in the
industry.
About Author