Elevate Your Surveillance with HIKVISION DS-7732NI-M4 32-ch 1.5U 8K NVR.
Introduction: In the era of advanced security solutions, businesses need reliable and efficient surveillance systems to protect their assets effectively. HIKVISION, a pioneer in video surveillance technology, presents the
DS-7732NI-M4
NVR—a powerful network video recorder designed to enhance your surveillance capabilities. With its exceptional features and cutting-edge technology, this NVR is the perfect solution for businesses seeking robust and high-performance surveillance solutions.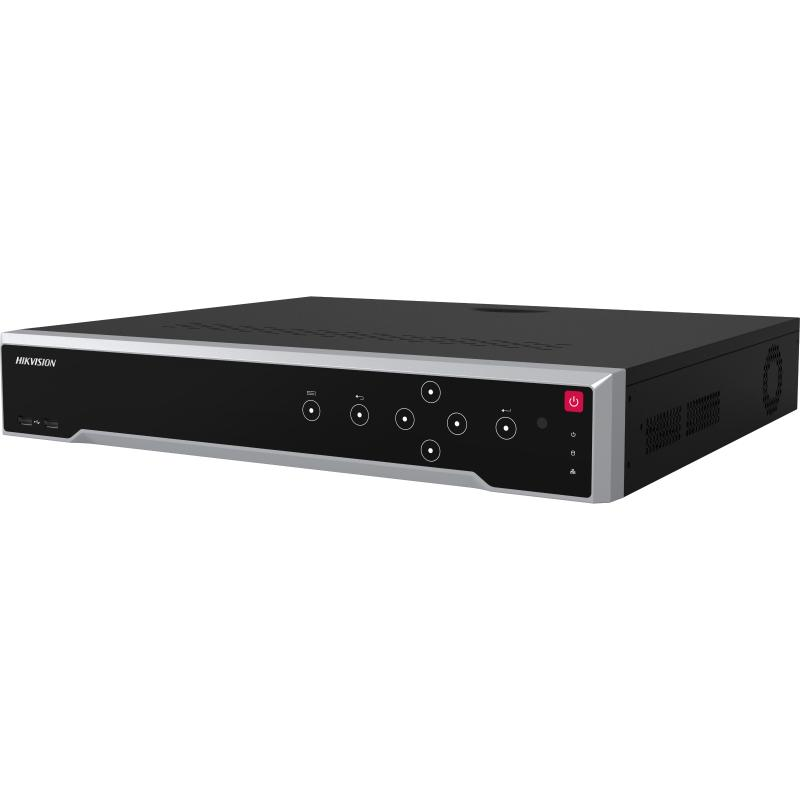 Unleash the Power of Advanced Surveillance: The HIKVISION DS-7732NI-M4 NVR sets a new standard in surveillance technology, combining superior performance and innovative features. With support for H.265+/H.265/H.264+/H.264 video formats, this NVR ensures efficient video compression while maintaining high-quality images. With up to 32-ch IP camera inputs, you can create a comprehensive surveillance network to monitor every corner of your premises.
Seamless Video Playback and Decoding: Experience seamless video playback and decoding with the DS-7732NI-M4's impressive capacity of up to 32-ch@1080p. Whether you need to review critical footage or monitor real-time events, this NVR ensures that every detail is captured with exceptional clarity. Enjoy smooth and precise video playback, enabling you to make informed decisions based on accurate visual information.
Robust Connectivity and High Bandwidth: With up to 320 Mbps incoming bandwidth, the DS-7732NI-M4 NVR guarantees reliable and uninterrupted connectivity for your surveillance network. This high bandwidth capability enables simultaneous video streaming and recording without compromising on performance. Stay connected and have peace of mind knowing that your surveillance system operates smoothly and efficiently.
Flexible and Scalable Surveillance Solution: The DS-7732NI-M4 NVR offers unmatched flexibility and scalability to meet the evolving needs of your surveillance infrastructure. With support for up to 32-ch IP camera inputs, you have the freedom to expand and customize your surveillance network according to your specific requirements. Whether you have a small business or a large enterprise, this NVR offers the versatility you need to build a robust and future-proof surveillance system.
HIKD: Your Trusted Partner in Surveillance Solutions: HIKD, a key partner of HIKVISION, plays an integral role in delivering top-tier surveillance solutions to businesses. With a strong commitment to innovation, quality, and customer satisfaction, HIKD emerges as a trusted partner for businesses seeking reliable surveillance solutions. With HIKD's expertise and support, you can optimize your DS-7732NI-M4 NVR and leverage the full potential of HIKVISION's technology.
Elevate Your Surveillance to Unprecedented Levels: The DS-7732NI-M4 NVR empowers businesses with advanced video compression, seamless connectivity, and superior performance. Its compatibility with a wide range of IP cameras ensures flexibility in surveillance deployments. With HIKD as your trusted partner, you can unlock the true potential of your surveillance infrastructure and enhance your security to unmatched levels.
Experience the Power of HIKVISION DS-7732NI-M4 NVR and HIKD's unparalleled support. Embrace intelligent surveillance, superior image quality, and efficient video management. Take control of your security with HIKVISION and HIKD—explore the possibilities of advanced surveillance today.
About Author