Elevate Your Surveillance with HIKVISION DS-9664NI-M8/R 64-ch 2U 8K NVR
Introduction: In today's fast-paced world, maintaining a secure environment is of paramount importance. HIKVISION, a leading provider of cutting-edge security solutions, presents the HIKVISION DS-9664NI-M8/R, a remarkable 64-channel 2U 8K NVR. Packed with advanced features and innovative technology, this NVR sets new benchmarks for video surveillance, enabling businesses to protect their assets with confidence.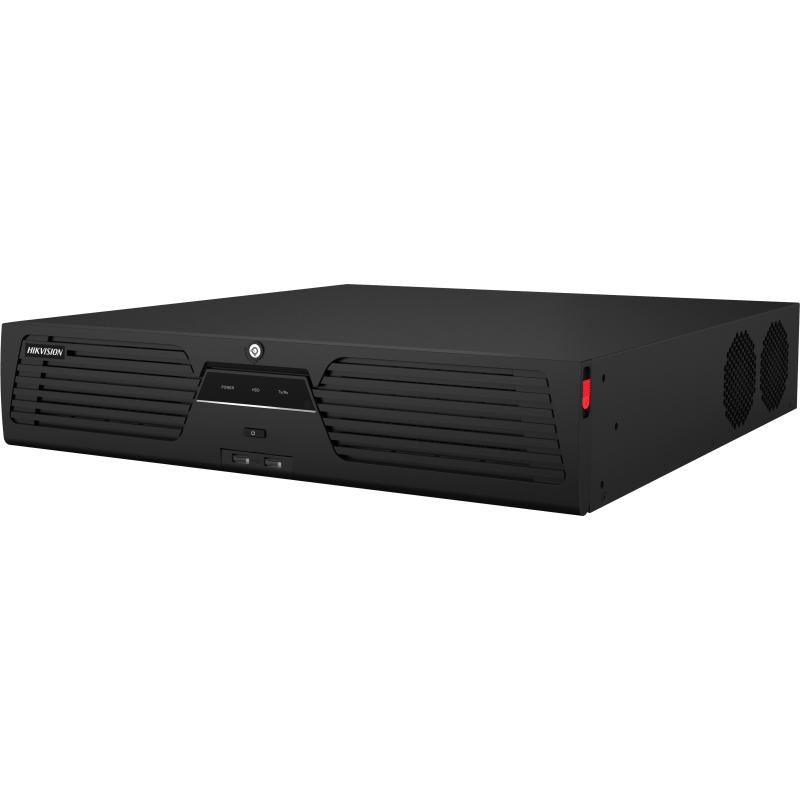 Unprecedented Camera Connectivity and High-Definition Live View: The HIKVISION DS-9664NI-M8/R NVR allows you to connect up to 64 IP cameras, providing comprehensive coverage for even the most extensive surveillance setups. With support for up to 12 MP high-definition live view, storage, and playback, every detail is captured with exceptional clarity. Whether monitoring a crowded retail space or a sprawling campus, this NVR delivers crystal-clear images, ensuring that no incident goes unnoticed.
Unmatched Bandwidth and Robust Storage: The DS-9664NI-M8/R NVR boasts a remarkable incoming bandwidth of up to 256 Mbps (or 200 Mbps when RAID is enabled), ensuring smooth and uninterrupted connectivity for all your IP cameras. This means you can rely on a seamless and responsive surveillance system, even in high-demand environments. With support for up to 8 HDDs, you have ample storage capacity for continuous video recording, ensuring that critical footage is always available when needed.
Specialist Camera Support and Advanced Analytics: The HIKVISION DS-9664NI-M8/R NVR is not only compatible with a wide range of IP cameras but also supports specialist cameras, including people counting, ANPR, and fisheye cameras. This allows you to deploy targeted surveillance solutions tailored to your specific needs. The NVR's advanced streaming technology ensures smooth live view, even in challenging network conditions, while its powerful analytics capabilities transform raw video data into actionable insights. Enhance your security posture with intelligent video analysis and make informed decisions based on real-time information.
Reliable Data Storage and Redundancy: Data security is a top priority in any surveillance system. The DS-9664NI-M8/R NVR supports RAID 0, 1, 5, 6, 10, and N+1 hot spare configurations, ensuring robust data storage and minimizing the risk of data loss. This redundant storage solution provides peace of mind, safeguarding your valuable video recordings against hardware failures. With HIKVISION DS-9664NI-M8/R, you can trust that your critical data is protected at all times.
HIKD: Your Trusted Partner in HIKVISION Solutions: As a key partner of HIKVISION, HIKD plays a vital role in delivering top-tier security solutions to businesses. Their commitment to innovation and customer satisfaction makes them an invaluable collaborator. With HIKD's extensive range of HIKVISION products and expertise, customers gain access to a comprehensive suite of video surveillance solutions tailored to their unique requirements. Count on HIKD to provide exceptional products and support, ensuring that you can leverage the full potential of HIKVISION technology.
Conclusion: The HIKVISION DS-9664NI-M8/R 64-ch 2U 8K NVR sets new standards in video surveillance, offering unparalleled camera connectivity, high-definition live view, and robust storage capabilities. With its support for specialist cameras and advanced analytics, it empowers businesses to proactively monitor their environments and make data-driven decisions. Trust in the partnership between HIKD and HIKVISION to deliver exceptional security solutions tailored to your needs. Embrace the power of the HIKVISION DS-9664NI-M8/R NVR and enhance the safety of your premises.
Contact HIKD for HIKVISION NVR Solutions: Website | Email: sales@hikdistribution.com
About Author